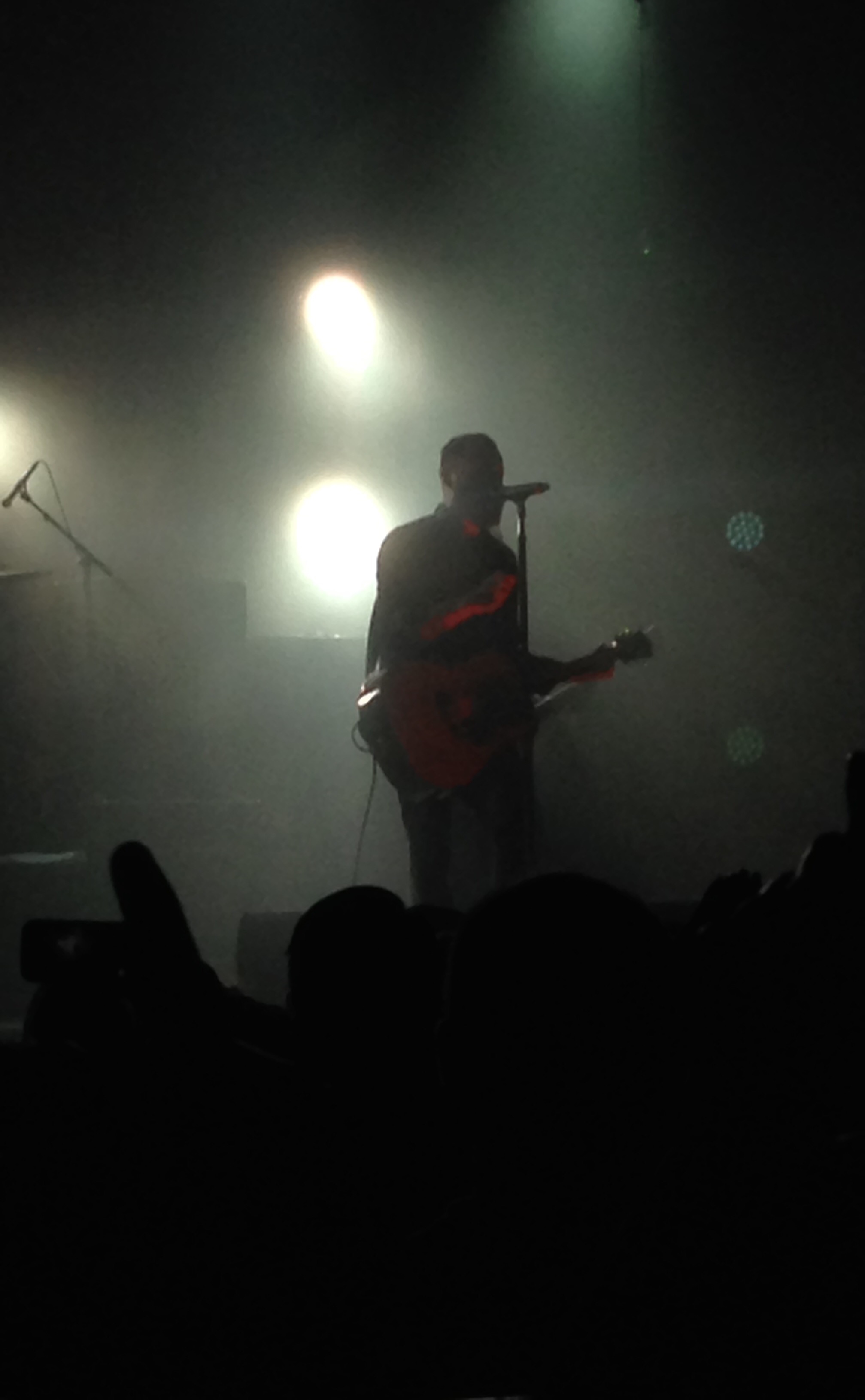 I hope you all had a safe and Happy Halloween!  Today, I thought it would be appropriate to talk about FEAR considering the holiday that we celebrated this weekend.
This is a photo I took months ago at a Blue October show in Dallas.  The lead singer, Justin, is an inspiration of someone who has overcome a lot of fear in his life, not to mention, an incredibly talented performer.
From a list ranging of things from drugs, alcohol and suicidal thoughts, I've heard him say how he had times where he'd play a show and not only not be able to be present with the audience, but that he'd meet people and not remember them.  Sadly, I can relate.  I hated myself for so long and didn't even realize it, so I'd continue to do things to hate myself to stay in that familiar place.
It took me many years of working with multiple coaches to work through all of my mess to where I could love myself and want the best life I could have.  Now, my greatest passion is helping others be able to do the same.  I love helping people see the ways that they are sabotaging their greatness so that they can live their life to their fullest potential.
A few months ago, I was being interviewed for a friends book where she was interviewing female entrepreneurs and since she is a performer herself, she asked me the question "if you could have a theme song for your business, what would it be" where I replied, "Fear, by Blue October" which I know was a very odd response.
I then explained how I used to let FEAR run my life and that I would sabotage myself all the time and that this song was so inspiring to me to see the transition that Justin has made in his life and it is a reminder for me to keep pushing and believing that anything is possible, including the joy that I have been able to find over the past few years after being so miserable for so long.
I saw Blue October in Richardson, Texas at a show a few months after this one above where Justin was so connected to the audience that he even came out and jumped around and sang with us.  Now, I've been privileged enough over the past 12 years to book and work with multiple celebrities to speak at events and even gotten to meet a few of my biggest idols, so I've noticed over the years that sadly nothing seems to phase me anymore…so, it was a joy to be giddy with my husband and our friend as we were walking away from the show saying "I touched him" like we were in high school, lol.  What a joy to see someone transform so much into such a powerful influencer with a very strong and inspiring message to share with others.  It is always an honor to see him perform and makes my heart sing with joy.
If you've never seen Blue October's video for the song FEAR, CLICK HERE and for an extra bonus, here is the ACOUSTIC VERSION.
Here is a PREVIOUS FEAR POST that I wrote about where I shared in more detail all of the things I used to be scared of and how I managed to go towards them and not let the FEAR win.  Since that post, I got married (9 months ago) and have spoken to groups of hundreds of people and both of these things that I would have thought to be so scary in the past have brought me so much joy.
I also had an experience where I spoke in front of some of the top speaker agents in the world and had more fear penetrating through my body than I knew possible and wanted so bad just to run off the stage and quit, but I worked through my shaking, terrified trembling body and voice and did it anyway.  I managed to loosen up a bit before it was all over, but it prepared me to now speak in front of hundreds of people and be okay with it.  If we can manage to continue to put ourselves in situations that scare the crap out of us, it gets easier and easier and we can live out our greatness and do what we were born to do, as a result.
What causes you fear that you know you really want to do?
What steps can you take today, this week, this month to go towards that thing so you can stop sabotaging your greatness?
Are you willing to commit to taking a scary step so you can find true joy and be the person you are here to be?
TRIESSENCE has moved to a monthly blog post versus bi-weekly, so my apologies in waiting so long to get one out.
In the meantime, I hope you find a way to figure out something that scares you, but you know you want to do and DO IT ANYWAY.