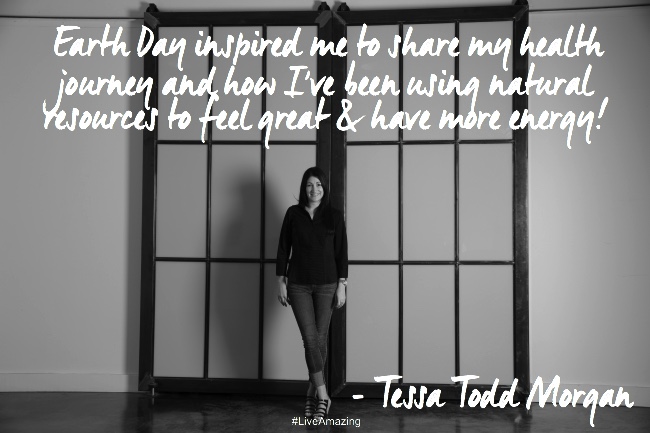 What if you could feel the best you've ever felt by getting all you need from what nature can provide for us?
A year 1/2 ago, I had an experience that changed my health, which then changed my life and I will be forever grateful.
This is how I used to feel:
My nickname was STRESSA (thank you, Wendi ;))
Once upon a time, I had more stomach ulcers than the doctor could count and major digestive issues.  You name it, I had it.  Plus, I was quite the opposite of regular, if you know what I mean 😉
I had allergies, headaches all the time and migraines were pretty common as well
A little TMI, sorry, but cramps and PMS were really bad too.
I used to get sick a couple of times a year.
I had aches and pains in my body that I couldn't describe.  Sometimes I would say it just feels like "my bones hurt"
I had times where I was depressed and didn't really feel like getting out of bed in the morning.
After finding out that nature holds the key to our health, now:
I am less stressed than I've ever been in my life.
My digestive issues have completely worked themselves out and for the first time in my ENTIRE life, I am regular.  I know, again, TMI, but you don't know how exciting this is for me 🙂
My allergy issues, headaches and migraines are pretty much non-existent or very rare
After one week of finding this solution, a fun time of the month came upon me and I had NO cramps or PMS!  Come to find out, once I gave my body all the things it was starving for, I felt great even during that time when normally I would feel awful!
I haven't been sick or taken any medications for illness this whole entire year 1/2 and am happy to say that I am on zero prescriptions.
I have no more random aches and pains in my body.
Along with coaching help, with the nutrients I am now getting in my body and getting a sustained release vitamin b in my system all day long, I can no longer even imagine having that feeling of not wanting to get out of bed.
So, what is this awesome solution that I found?  
Well, I had tried all kinds of vitamins and supplements before and nothing had ever worked for me.  Then, my friend introduced me to Shaklee. Shaklee has been around since the 60's and I remembered my mom taking some of their vitamins when I was younger.
So, after one week of putting good and pure natural supplementation in my body, my life was changed and I will never be without my Shaklee because I feel like a new person.
It dawned on me a few months ago, it only makes sense for me to add this on as a division of my business because:
A) I am all about health and wellness
B) I love helping people live their lives to their fullest potential and we can't do that unless we feel at our best and
C) I want to share this with as many people as I can so they can have the same experience that I did and feel great and I love having the unique opportunity to help others start their own health and wellness home business if they choose to do that side of it as well.
In honor of Earth Day I chose to take this time to share about Shaklee because:
I love that Shaklee was the first company in the world to be certified Climate Neutral in 2000 and planted more than 1,000,000 trees in their Million Trees Million Dreams campaign.
I love that they have safe and "green" cleaners that I use to clean my home and I no longer get headaches when cleaning and can always breathe even when I'm using them.
I love that their facial products, soaps and shampoo are all natural and paraben free and I know that I'm getting good nutrients seeping into my skin when I use them.
I love that Olympian athletes can use their products because they are pure and love that there have been 121 medals earned by world class athletes that are fueled by Shaklee.
I love that even astronauts trust Shaklee and that Commander Scott Kelly took his Shaklee vitamins into space with him and that I get to hear him and his brother Mark speak at the upcoming Shaklee conference in Orlando this August.
I love that Shaklee has a whole weight loss program designed to help people get to their ideal weight without putting things in their body that are bad for them or starving themselves in order to get there.
I love that I have a friend who has gotten off of 10 prescription medications since being on Shaklee.
I love that there's something for everyone in EVERY budget and that they even have a multi-vitamin for like $12 a month.
I love that they offer targeted solutions and there are so many success stories to help with anything ranging from heart health to high cholesterol to high blood pressure to diabetes to fibromyalgia to asthma & allergies.
I love that they have a kids vitamin line and that I recently have been able to help a client have her son be able to concentrate more in school and have great focus results!
So, I'm publicly announcing that TRIESSENCE has teamed up with Shaklee as an independent distributor.
SPECIAL OFFER FOR COMPLIMENTARY CONSULTATION:
And, due to the huge range of products that Shaklee has to offer, I'm offering a complimentary consultation call to anyone that is interested in learning more and finding out what could help you possibly feel the best you ever have.  We can chat about any health concerns you might have or if you are more concerned with preventative health and I can give you some options to choose from based on your budget.
Feel free to contact me or complete the following form to schedule the complimentary consultation: http://findyourtriessence.com/tessatoddmorganconsult/

In case you have any interest in browsing on your own, my site is: http://triessence.myshaklee.com
CLICK HERE to subscribe to my monthly Shaklee health newsletter
CLICK HERE  to "Like" my TRIESSENCE FB page to see more blogs like this one moving forward
Photo credit:  Hal Samples