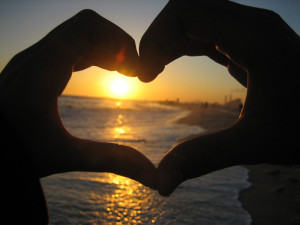 Are you in love with you?  I hope so.
I strongly believe that in order to be able to fully love another and give the best of yourself and love someone as they deserve to be treated and loved, you must be in love with you first.
Sometimes, that can sound like a stretch, so perhaps as a starting point, we could say that you at least need to like yourself a whole big bunch.
Unfortunately, for many years, I didn't have much love for myself.  In fact, it was quite the opposite.  I pretty much couldn't stand myself.  I didn't know this for a very long time, but I feel so fortunate that I finally figured this out.
Learning to love myself wasn't a super quick or easy process, but it was the best gift that I could have ever given myself as well as anyone else in my life that receives love from me.
There are many people that I love in my life and I feel like those people have gained a better me and get more love from me by me being able to work through things I needed to and then fall in love with myself.
And I can honestly say that I am head over heels in love with someone romantically and have more love for this person than I ever knew would be possible.  And again, I feel that he benefits from me being able to love myself now.
This self-love is not a conceded love or a selfish love and allows me to have a healthy love with others.  My romantic relationship is the best one I have ever had in my life and I feel it is because I have learned to love myself.  When you learn to love yourself and can be secure in who you are, you can then be secure in your relationships.  We are loving, open and passionate with one another and have trust, respect and confidence in our relationship and it is also a very relaxed, yet fun relationship!  I am convinced that would not be possible if I didn't love myself.  First off, for me to figure out what I actually wanted in a relationship and then, second, for me to then actually love myself enough to let myself take in all of the overwhelming feelings (in a good way!) that come with being in love and being very close to someone!
I honestly think I spent the majority of my life not loving myself up until a few years ago.  I would self-sabotage myself all the time in multiple different ways.  I would let my fears and insecurities keep me from doing everything I would dream of doing and being.  I would do things to hurt others because I was hurting on the inside.
I'm not saying times can't creep back in there sometimes.  Last week, due to a certain fun time of the month for my female friends out there (I know, sorry excuse, but it just is what it is ;)) I was feeling totally crappy in general and about myself.  Basically, I had no love for myself for a few days and was doing nothing to show love to myself either to make myself feel better.  I didn't take a break or rest or do yoga or take a long bath or get a massage.  I just kept ignoring how I was feeling and became grumpier and yuckier.
Unfortunately, my sweet love had to receive the end of that and the impact of how I was feeling.  I was downright pretty much mean and judgmental and spoke my mind about things that I had no business talking about when I felt bed and was one of the most opinionated people on the planet (or at least it felt like it).  Luckily, it only lasted a day or so, but I don't like the person I was being when I wasn't loving myself and I know he didn't either even though he was sweet enough to put up with me and continue to be nice even when I wasn't (probably crossing his fingers it would pass asap ;)).
I recognized what was happening and did nothing about it.  Had I done a better job of pulling myself away and given myself space and did something for myself and shown myself love and chosen to love myself anyway, that probably wouldn't have happened.
Therefore, I have made a commitment in the future when I know that is happening to make sure and remove myself from a situation where I could say hurtful things or not be coming from my best, which normally, is a place of love.
I am fully committed to living my life from a place of love and when I see myself moving away from that place to quickly do something to get myself back to it.
My wish for you, not only today, but all days, is to find ways to love yourself.  If you can find things to appreciate and love about yourself, your love and relationships will be so much better.  If you are having a day where you are feeling all alone and like you don't have someone to share this special day with, spend time loving yourself.  Write down three things you love or can appreciate about yourself and then find one thing you can do for yourself this afternoon or evening to show yourself love.
What do you love to do?  Go on a walk?  Paint?  Listen to your favorite music?  Read a book?  Take a long bath?  Watch a fun movie and relax and lay on the couch?  Whatever you know makes your heart smile, go and do it today!
Here's wishing you and yours a Happy Valentine's Day and a wonderful and safe weekend.
So much love and then some xoxoxo