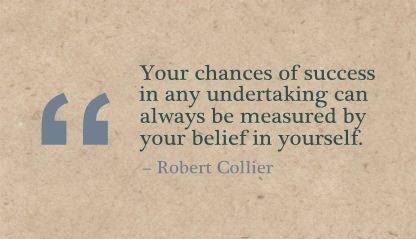 "Your chances of success in any undertaking can always be measured by your belief in yourself." – Robert Collier
I love this quote and it makes me wonder why some of us believe in ourselves and some of us don't.
At what point do we lose our confidence and think we aren't capable of certain things?
Is it when we hear growing up that we are not good at x but good at something else?
Is it when we get our heart broken for the first time that we lose confidence in ourselves?
Is it when we try something and fail, even on the first go round?
At what point do we begin to stop loving ourselves enough to believe in ourselves?
I have done many things throughout the course of my life that I wasn't very proud of and punished myself for them over many years.  I also had some self hatred for myself and self sabotage going on until I had enough and decided to get some help and let coaches show me how much I had stopped loving myself.
Would you be willing to ask yourself these questions?
Where do you judge yourself?
Are your thoughts to yourself loving or critical?
When I am working with my life coaching clients, I'm amazed at how much we judge ourselves and the amount of self doubt we can have.
Do you believe you are capable of doing anything you want to do?  If not, why not?  And I don't necessarily mean something like going to the Olympics if you haven't been training to be an athlete for years, but even some of the simple things you'd like to do, but don't believe that you can.  Things like starting a new career or your own business, finishing school, writing a book, having a healthy relationship, having a child, etc.
Would you be willing to start being a little more kinder to yourself?  You know, we are what we think we are and we attract what we are thinking about, so the more we think negatively about ourselves, the more we will continue to feel that way and keep acting as we tell ourselves we are.
What if you took the next week and only thought positive things about yourself?  You could make a list of positive characteristics that you have and read them to yourself a couple of times a day and be grateful that you are those wonderful things.
Then, when you feel the negative self talk creeping up, go back to the list.  If you practice looking at them enough, you will remember some of them when you begin to get caught up in those moments and begin to say them to yourself until it becomes natural to feel that way about yourself and regain your confidence in who you are.  We all have unique gifts, talents and characteristics that we can appreciate.  And you'd be amazed at how much others will begin to see them too (if they are not already) when we start to appreciate them and are living them ourselves.
The best thing you can do in those moments of self doubt and negative talk is to switch to focusing on the positive and be grateful that you have those beautiful characteristics.  You might be surprised at how far being grateful for what you do have can get you and you might even start to find yourself making goals and steps towards some of the things you'd like to accomplish.
I challenge you to start listening to what you tell yourself and ask yourself if that is really true and perhaps start working towards proving yourself wrong.  And if you really want to get crazy, add in some words that you know you have faith you can be and want to be like, "I am confident" or "I am successful" and sit back and watch what happens 😉