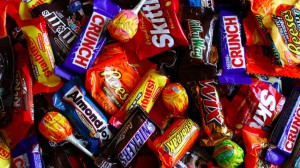 How are you recovering from Halloween?  What do you think of when you think of Halloween?  What are your favorite things to do?
With Halloween being one of my favorite holidays since I love getting dressed up and having fun, I've never really thought about some of the things that Halloween represents.
I mean, where did trick or treat come from anyway?  Like, do people ever actually do a trick for a child vs. giving them candy?  What does that even mean?
It's kind of ironic for me that it is one of my favorite holidays since I like to think of myself more of wanting to spread joy and fulfillment vs. darkness and gloominess with all the scariness that takes place.
So, if you're left with a big ole bunch of candy, now what do you do?
What can you do to take care of your body and/or your children so we don't all get sick from eating too much sugar?
One thing I'm incorporating lately is buying fruit to have on hand for when I have a chocolate craving.  Just last week alone to prepare, I bought apples to eat with peanut butter, plums, peaches, oranges and bananas.  Guess I thought I was going to have a lot of sugar cravings!
Just one idea to possibly incorporate when you're pushing your edge with any leftovers.  Perhaps stick with the Halloween theme over the next week and pick up an orange when you want to go for the candy.  Your body may love you for it!
You could also consider adding in some extra movement this week.  Maybe pick up an extra yoga class, run or work out for the week.  Or if you haven't been getting any workouts at all in lately, just commit to one.  Going on a walk outdoors is one of the best things you can do for your mind, body and soul!  Plus, if you're in Texas like I am, it's feeling great outside, so get out there and enjoy it!
HAPPY BELATED HALLOWEEN!!!!
P.S. I meant to send this on Friday and that didn't happen, so I had to redo this to make sense post Halloween.  My apologies for being late!
P.S.S. I might have just finished eating a bite size Snickers and M&M pack.
P.S.S.S.  Therefore, it's all about moderation so you don't make yourself sick or send your body into sugar shock.  Or, go out there and find friends and other people to pass the candy along to and maybe you can put a smile on someone else's face and do something healthier for yourself 😉